A class of second graders is working together to make a food web light up all of its connections.
A parent and child have climbed into a huge sculpture to inspect mud dwelling animals on a video touch screen. Others are listening to bird calls or making the foot prints of shore birds. Could you really be in the library? If it the Redwood Shores Community Library, the answer is "yes!"
This branch of the Redwood City Pubic Library will be remarkable in many ways. The beauty of the building and its setting, the café and outdoor deck are all unusual among libraries. But the wetlands and baylands Intrepretive Center will make this library entirely unique.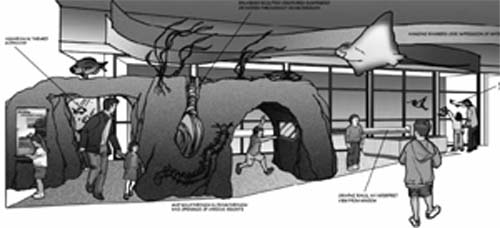 The Intrepretive Center will celebrate the flora and fauna of the south San Francisco Bay. Through hands-on learning experiences visitors will develop a deeper connection to their environment and the motivation for stewardship of local resources. With built-in appeal to adults and kids alike, the Intrepretive Center will be a special destination for Bay Area students and families.
When you enter the Library lobby, you will be drawn to the giant walk-through (and crawl through) mud exhibit. Touch the giant spaghetti worm or any of the mud-life sculptures enlarged by 1000 times. A California Bat Ray "swim" over head. A touch screen invites you to view the animals in the mud then "look closer" by increasing the magnifications.
The 300 gallon aquarium housing fish, snails, crab and other water life draws you into an
ever-changing view of slough and Bay life. Magnetic water creatures and birds decorate a wetlands mural. Move the animals in and out of their usual environments and see how camouflage protects them.
What microscopic organisms live in our water? Take a look at the video microscope and find out. How high does the tide get in the Belmont Slough? Turn the handle of the video Spin-Browser TM and watch the tide change. Notice the rhythmic change in bird feeding behavior as the water depth changes. What would it feel like if you moved your arms the same way a bird moves its wings in flight? Try it out on the deck. While you are there, use the key to discover the names of birds in the Slough, just 30 feet away.
Taking full advantage of the nestled location along the Belmont Slough and the Bay Trail, the Intrepretive Center will highlight local wildlife. You will learn with your eyes, ears and hands as well as with your heart. And when you discover that you want to know more, remember, you are in the library.
– Submitted from Jacky Averill, Children's Librarian, Redwood City Public Library